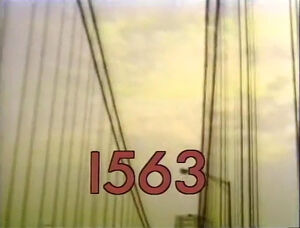 This episode guide is missing segments cut from Noggin's broadcast.
Picture
Segment
Description




SCENE 1
Maria's nervous about asking Luis for a raise. Big Bird suggests acting angry, sad, afraid or happy, but Maria says it won't work.

Cartoon
Gerald's dog Sparky likes to pretend he's an alligator.




SCENE 2
Big Bird has some more ideas of how to approach Luis: loud or quiet; on, under or around; fast or slow.

Muppets
Anything Muppets tell Grover in song how to plan for a career; unfortunately, all Grover wanted to make up was his mind - regarding which of two ice cream cones to eat first! By the time said song is finished, both cones have completely melted.

SCENE 3
Big Bird suggests asking Luis for a raise in rhyme: "A brand new suit costs a lot of loot, so whaddaya say, will you raise my pay?"

Cartoon
A red man tries to get apples from a tree by himself, while a yellow man builds a ladder.
(EKA: Episode 0870)




SCENE 4
Maria works up the courage and not only gets the raise, but becomes a full partner, as well.

Film
Scanimate kids intro
(First: Episode 0798)

Muppets
Muppet & Kid Moments: Ernie and Jason: AT family.

Cartoon
Little Red Riding Hood is prepared for her trip to Grandma's.

Celebrity
Itzhak Perlman and a girl demonstrate their strengths and weaknesses.

Cartoon
Things say that other things are small, but then something comes along that's bigger, or smaller, or whatever.
(EKA: Episode 0320)

Muppets
Ernie and Bert: Bert tells Ernie that if he can clean the messy apartment in fifteen seconds or less, he will give Ernie his dessert, ice cream and cookies.
(First: Episode 0033)

Cartoon
Candy Man
Artist: Bud Luckey
(EKA: Episode 0423)

Muppets
Anything Muppet kids and upside-down 8
(EKA: Episode 0337)

Film
Old paper, new paper
Music: "Blue Nosed Gopher" by Graham Preskett
(EKA: Episode 0972)
Insert
Bob meets C-3PO and R2-D2 and sing the alphabet together with the kids (and droids).
(First: Episode 1396)

Celebrity
Edith Ann (Lily Tomlin) talks to Herry about being proud.
(EKA: Episode 0913)

Muppets
News Flash: Peter Piper's Pickled Peppers.

Cast
David and Olivia sing "It Feels Good When You Sing a Song."

Film
Raposo: Footage of birds swimming, including flamingos, swans and ducks.
(EKA: Episode 0981)

Muppets
Ernie and Bert: Ernie gives Bert's nephew Brad some bath toys to play with.
(EKA: Episode 1134)

Cartoon
Olga y la letra O
(EKA: Episode 0413)
This segment was cut from the Noggin version.

Insert
Jump rope.

Cast
David goes through a series of doors marked "OPEN."
(EKA: Episode 0442)

Film
Various objects become OPEN.
(EKA: Episode 0573)

Cartoon
A girl imagines she's a rock, which becomes a statue.
(EKA: Episode 0773)

Insert
More jump rope.

Cartoon
P is for Pillow
(EKA: Episode 0796)

Film
You can't see the wind.
(EKA: Episode 1077)

Muppets
Competitive flowers in a garden fight to be the tallest and the smallest.
(EKA: Episode 1455)




SCENE 5
Luis & kids play soccer as Maria announces the sponsors.




CLOSING SIGNS
Susan holds up the Sesame Street sign, while Gordon holds up the CTW sign at the end
Ad blocker interference detected!
Wikia is a free-to-use site that makes money from advertising. We have a modified experience for viewers using ad blockers

Wikia is not accessible if you've made further modifications. Remove the custom ad blocker rule(s) and the page will load as expected.