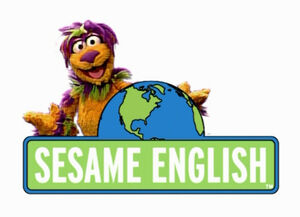 | Picture | Segment | Description |
| --- | --- | --- |
| | SCENE 1 | Annie, Niki's friend, says hi to Tingo and Niki as she comes down the stairs to Niki's room. Annie reveals that she has a new computer game and Niki goes to help her set it up. As Tingo is talking on the phone, he notices the viewer and tells the caller to hold on a second. He explains to the viewer that today they are all going to play with Annie's new computer game. |
| | Song | "We Got the Power!" - a hip-hop song about computers |
| | SCENE 2 | As Niki sets up the computer game, Annie ask her where the mouse is. Tingo looked confuse on why they need a mouse to play a computer game. As they all start to look for the mouse, Tingo gets an idea on how to catch the mouse. |
| | SCENE 2 cont'd | In the kitchen, he sets up a plate of cheese to catch the mouse, but ends up eating the cheese instead. However, Tingo says he has another plan. |
| | Animation | Masked March #20 |
| | SCENE 3 | Tingo tells Annie and Niki that he knows how to get them a mouse. As Annie and Niki continue looking for one, Tingo calls up his friend, Izzy, and tells her that he needs a mouse to play a computer game. After talking, Tingo hears that Izzy can come over and he gives her directions to the house by telling her to go around the house and through the gate. |
| | Muppets | Grover sings "Over, Under, Around and Through." (edited) |
| | Film | A group of Gymnasts show under, over, through, and around as a lady holding a hoop for them to demonstrate. |
| | Film | Kids sing "I Love My School!" |
| | Cartoon | A dog chases a cat around, through, over, and under a doghouse. |
| | SCENE 4 | Tingo sees his friend, Izzy, arrives and introduce Niki and Annie to the mouse. Niki and Annie laugh as Niki explains to Tingo that they need a different mouse. However, Izzy understands what certain mouse they are looking for and reveal that she brought a computer mouse. Since it was her computer mouse, Annie and Niki let Izzy play the computer game first. |
Ad blocker interference detected!
Wikia is a free-to-use site that makes money from advertising. We have a modified experience for viewers using ad blockers

Wikia is not accessible if you've made further modifications. Remove the custom ad blocker rule(s) and the page will load as expected.