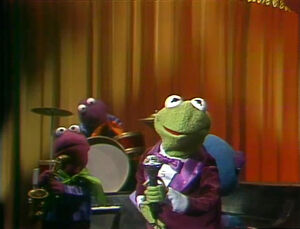 Mr Hooper receives a postcard from his old friend, Harry.
Cartoon: A girl shows how good she is at drawing buildings.
The Knights of the Round Table have trouble finding the right table
Big Bird and children balance on one foot and do exercises to the count of 10.
Film: An Hispanic boy gets up, gets dressed, and goes to school as Spanish music plays (A la luna no voy yo). (EKA: Episode 0829)
Film: Some kids have a bike race by the river.
Cartoon: Drawing a chicken (child V/O in English and Spanish) (EKA: Episode 0838)
Osvaldo, el Gruñón, Oscar and Grundgetta dance as the Grouch-cha band plays.