Sesame Street
Plot
Mr. Hooper and David's grandmother go to the senior citizens' dance
Air date
May 19, 1980
Season
Season 11 (1979-1980)
Sponsors
V, R, 7

This episode guide has been compiled from materials at the CTW Archives.

ⓘ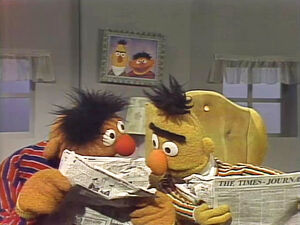 Children dance at a nursery school.
Film: Horses compete in a contest to see who can pull the most cement. (EKA: Episode 0881)
Bert is sitting in his chair and reading the paper, when Ernie comes along and starts reading over Bert's shoulder. They decide to share the paper. Ernie rips it in half, which seems to work until Bert realizes that some of his article is on Ernie's half and starts reading over Ernie's shoulder. (EKA: Episode 1236)
David's grandmother and Mr. Hooper are going to the Senior Citizens Night at the Bijou Dance Ballroom.
Mr. Hooper, Grandma, Mr. Macintosh, and Willy return from the dance after having a wonderful time.