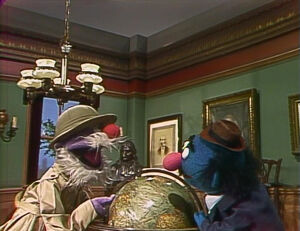 One of the children at a day care center draws of picture of Sesame Street buried in trash and gives it to Oscar as a present.
Cartoon: A boy gets lost, and encounters a man with a yo-yo, who tells him to remember everything he passed. (EKA: Episode 0668)
Cartoon: A picture of a girl playing a guitar is drawn as off-screen kids (speaking English and Spanish) try to guess what the drawing will be. (EKA: Episode 0406)
At the day care center, Big Bird and children march around the room in time to the music and then "freeze" their positions whenever the music stops.
An old colonel explorer meets Simon Soundman and describes his world trip to him, dozing off several times in the process due to his lack of sleep. As the colonel talks about the bad weather, Simon provides the appropriate sounds.