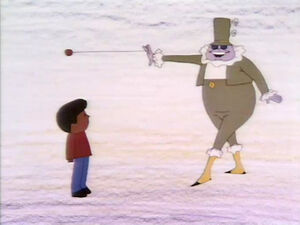 One of the children at a day care center draws of picture of Sesame Street buried in trash and gives it to Oscar as a present.
Cartoon: A boy gets lost, and encounters a man with a yo-yo, who tells him to remember everything he passed. (EKA: Episode 0668)
Cartoon: A picture of a girl playing a guitar is drawn as off-screen kids (speaking English and Spanish) try to guess what the drawing will be. (EKA: Episode 0406)
At the day care center, Big Bird and children march around the room in time to the music and then "freeze" their positions whenever the music stops.