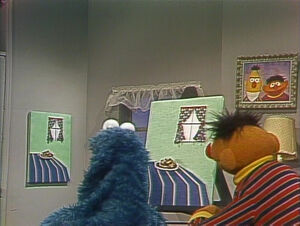 Animation: Apples fall from a tree, which bothers the hill beneath it. (EKA: Episode 1272)
Ernie plans on copying Bert's felt board template called "Cookies on a Plate in a Room with a Window" which features just that. Ernie goes through various pieces, seeing which ones match Bert's. Once he finishes, Cookie Monster enters the apartment and complements the picture, but likes Bert's more and rips the cookies off the picture and eats them. Ernie sobs, as now his picture is different from Bert's, so Cookie solves everything by eating the cookies off of Ernie's picture.
Three Anything Muppets individually try to sell lemons, water, and sugar. After all of their businesses fail, the three cooperate to start a lemonade stand. (EKA: Episode 0335)
Cartoon: Thelma Thumb - Thelma saves an ice fisherman when the ice around him cracks.
The Count counts five children as they rearrange their positions.