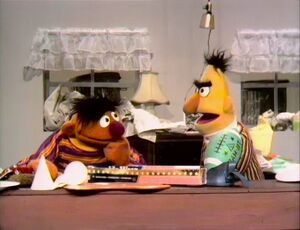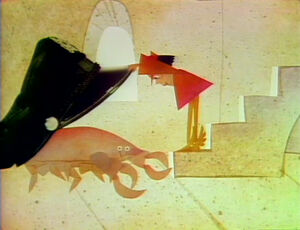 Ernie & Bert — (Part 2) Ernie has finished cleaning up the apartment, but the toy chest is still a mess, so he throws toys all over the place. (First: Episode 0010)
Bob and the kids pretend that they are firemen on a firetruck.
Cartoon: A baby rescues a ball from on top of a column. (EKA: Episode 0198)
Film: In a park, a garbage man puts litter in a trash can. (EKA: Episode 0811)
Film: A man reads a newspaper, then shamelessly drops it on the ground. A little girl finds this disgusting, and puts the newspaper in the trash bin. (EKA: Episode 0811)
Cartoon: Thelma Thumb - At the beach, a man's hat falls onto a crab, who crawls into a boy's sandcastle. The man wants to destroy the sandcastle to get his hat back, but instead Thelma asks the crab to return the hat.
Film: Two kids cooperate on putting on smocks for painting. (EKA: Episode 0334)