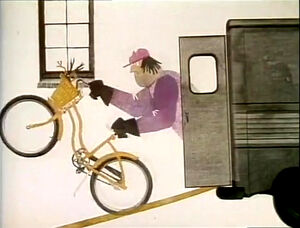 Rachel goes to the beach.
Ernie and Bert cooperate to make Ernie's bed. Ernie notices that on his bed, which Bert is preparing, there is one side where the blanket is shorter than the other. Bert suggests that Ernie and him cooperate while making the blanket even on both sides, in the process the blanket is shorter at one side than the other. (EKA: Episode 1388)
A mother and her child share a nutritious snack.
Cartoon: Thelma Thumb - All the children's bicycles are stolen. Marcia asks Cyrus to watch her bike, but the thieves steal the bike and kidnap Cyrus. Thelma locates the thieves, locks them up in the garage, and calls the cops.
Big Bird asks everyone to pretend that they're on a bus ride.
A little girl describes the place where she lives.
Grover is outside in the snow, freezing. He keeps knocking on Kermit's door, asking how to get warm, and Kermit keeps telling him to come inside. Grover, missing the point, tries ideas of his own to get warm, but they don't work. Finally, Kermit tells Grover that if he wants to get warm, he should come inside. Excited, Grover pulls Kermit aside, then goes in and slams the door, locking Kermit out. Grover goes to sleep in Kermit's armchair while the frozen frog scrapes at the window. (EKA: Episode 0598)
Stop-frame animation of a girl on a beach, reading a book containing pictures of various sea creatures that come to life as she comes to their pages.