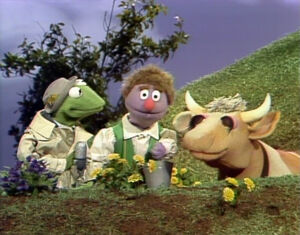 Cartoon: Two heads have different ideas.
Cartoon: A stubborn hippo sits on a girl's ball, and she tries to figure out how to get it back. (EKA: Episode 1124)
Oscar is collecting items for his Museum of Muddy Art.
Film: A mailman on horseback delivers mail in the Appalachian mountains of Kentucky. (EKA: Episode 0666)
Ernie tries to put a pot on Bert's head. Bert asks Ernie why he's doing that, and Ernie says that he broke a cookie jar. Ernie has to put the cookies somewhere, so he put them in the sugar bowl – and put the sugar in the flowerpot, which meant that he had to put the flower in a milk bottle. He put the milk in the soda bottle, the soda into the fishbowl, and the fish in Bert's cowboy hat. Bert asks, "Now what am I going to wear when I want to play cowboy?" Ernie puts the pot on Bert's head and says, "Ride 'em, cowboy, Bert!" (First: Episode 0279)
Finding various shapes around the garage area.