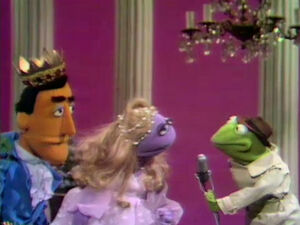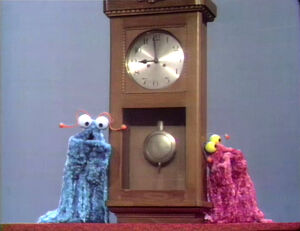 Oscar is about to plant an all-American Grouchweed.
Cartoon: A girl wonders what would happen if she dropped a bag of ping-pong balls near her cat. (EKA: Episode 0899)
The Martians discover a grandfather clock and wonder if it's an Earth person. They consult their book, which says a person is tall, has a face, and has hands. The clock fits the description perfectly. But then the grandfather clock begins chiming the hour, frightening the Martians. (First: Episode 0407)
A puzzle of Maria is put together.
Sesame Street News Flash: Kermit interviews Cinderella and Prince Charming, who are dancing at the ball. After Cinderella leaves, at midnight, she leaves one glass slipper behind. The prince wants to use it to find Cinderella... so he can have the other slipper as well. He then accidentally breaks the one he found. "Well, easy come, easy go," he says. (EKA: Episode 0516)
A hand draws various body parts. (English and Spanish)
Susan and Gordon lose the car keys and a picnic basket.
Susan and Gordon decide not to go to the picnic after it starts to rain.