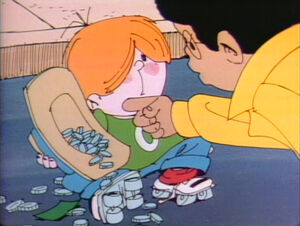 Song: "I Wonder How It Feels"
Sesame Street News Flash: Kermit, doing a "slow-breaking human interest story," asks monsters at a day care center what they want to be when they grow up, and every time they tell him, he rewards them with a cookie. Cookie Monster, posing as a baby ("Cry cry cry, sniffle sniffle sniffle"), claims he wants to be an orthodontist. However, Kermit gets wise to his scheme, and instead rewards him with a wind-up toy bridge of false teeth. (EKA: Episode 1346)
A child wonders what the world looks like to a goldfish in his tank.
A Muppet father and son switch roles in the forest. The father climbs trees and asks questions, while the son explains things. (First: Episode 0089)
A man thinks of various objects with round shapes. (in English and Spanish)
An Anything Muppet lady spells out the word BUG, after which a bug introduces himself.
A lumberjack chops down trees.