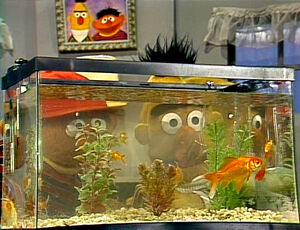 The residents of Sesame Street try to figure out how to get Barkley off the car horn.
Cartoon: A man tries to figure out the difference between drinking glasses and eyeglasses. (EKA: Episode 1014)
Oscar adds to the confusion by beeping his air horn.
Cartoon: A man goes to the grocery store to buy apples, but he can't decide how many to get. This frustrates the grocer, who has to keep adding and subtracting the amount of apples on his scale. (First: Episode 0132)
Ernie decides to set up an apple-selling stand, and has everything he needs, leaving out the apples. (EKA: Episode 1219)
The Count thinks that two heads are better than one.
Ernie pretends that he is paddling a canoe.
Ernie can't decide which of the two different shelves he should place a large vase on, so Bert tells him to use his imagination. Ernie imagines the vase falling off the little shelf and Bert kicking him out of the apartment. Then, Ernie imagines putting the vase on the big shelf, and Bert rewarding him with a big surprise party. (First: Episode 0277)
The horn in Gordon's car gets stuck.
Ernie wants to go outside and play catch, but Bert gets him interested in watching his goldfish.