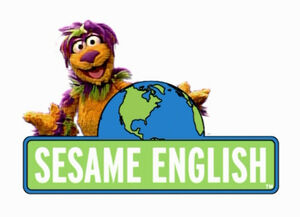 Picture
Segment
Description

SCENE 1
Tingo has a pair of sneakers, just like the ones worn by his favorite superhero - Captain Fabulous! Niki heads out for a run and Tingo wants to race her. She insists that she will win because Tingo doesn't exercise as much as she does, but he thinks his Captain Fabulous sneakers will automatically give him an advantage.

Film
A girl helps her father train for a wheelchair race.

SCENE 2
Niki and Tingo start their race outside. Tingo returns to the basement, completely exhausted from having lost the race. Niki tells him he needs more practice, then asks him to answer the knocking door since he's near to it. Tingo begins to have a meltdown.

Muppets
Grover, on a surfboard, demonstrates near and far. (ending edited)

SCENE 2 cont'd
Tingo tosses off his Captain Fabulous sneakers, upset with their results and assumes they're broken.




Insert
Niki and Tingo tango and sing about the letters R and L.
(First: Episode 132: What Time Is It?)

SCENE 3
Tingo tries fixing the sneakers, when Niki finally tends to the knock at the door and finds nobody there. Tingo proposes another race, but Niki doesn't feel like running. He suggests a bike race instead and he again comes in last.

SCENE 3 cont'd
Suddenly, who should be at their door, but Captain Fabulous himself! He's come to retrieve his sneakers and parts with a message for Tingo: the shoes don't make the person go faster, it's the person. Tingo heads his advice as he challenges Niki to a race to the fridge. He finally wins and does a victory dance.