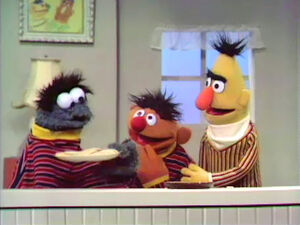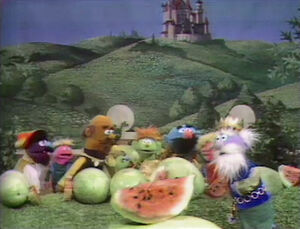 Ernie & Bert — Bert calls Ernie into the living room and accuses him of eating a plate of cookies he was saving for himself. Ernie denies it, but Bert describes three clues that suggest he's the culprit: the empty plate, someone with black hair and wearing a red and blue striped sweater, and that same someone laughing just like Ernie does. Ernie admits the evidence is against him but still claims that he is innocent...just as Cookie Monster, dressed in an Ernie disguise, enters, takes another plate of cookies, and laughs in a very familiar way. (First: Episode 0158)
Film: Various kinds of multi-colored fishes.
Various shapes around the Fix-It Shop.
Disabled workers make clocks and watches.
Oscar paints the door of the Fix-It Shop in a variety of colors and patterns hoping that Luis and Maria will hate it.