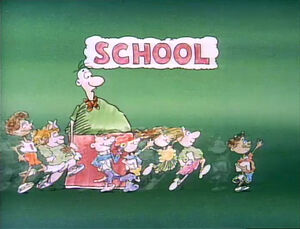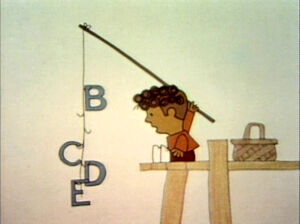 Sign Cartoon: SCHOOL -- After a bunch of kids come running by, a girl goes before the man and says it's Saturday. That leaves him to say: "No school."
Sign Cartoon: DON'T WALK -- After reading this sign, the man has to crawl away.
Cartoon: While fishing one day, a boy catches the letters of the alphabet. Frustrated at not having caught any fish to eat, he decides to use his catch for alphabet soup. (First: Episode 0004)
Film: Women who repair phones for the telephone company. (EKA: Episode 0840)
Song: "We've Gotta All Work Together"
Film: A segment about kittens, with kid voiceovers in English and Spanish. (EKA: Episode 0830)
Song: "I'm Winter and I'm Cold!" Beware!