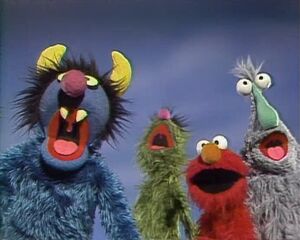 A boy looks for his lost car.
Film: Some kids watch a film of a man working in a greenhouse, and try to guess what his job is. (EKA: Episode 0826)
Cartoon: A girl imagines herself as a car that rescues fire victims. (EKA: Episode 0598)
Ernie gets Bert to participate in a rhyming game, but Ernie ends the game just as Bert is starting to enjoy it. (EKA: Episode 0798)
Old West: The town doctor ("Doc") comes to a saloon to meet Mean Manny and his gang, even though Manny is the toughest guy in town and plans to have a "shootin' party." Manny and his posse arrive on time and meet with Doc and his medicine...he gives them all measle shots. (EKA: Episode 1166)
Cartoon: Thelma Thumb saves a sparrows nest.
Bert finds it difficult to listen to Pigeons in the News while Ernie and the Sesame Street Citizens' Band are outside practicing. In yet another case of miscommunication between the two, since Bert doesn't like it when they practice outside, Ernie leads the band into the apartment so they can practice inside. (EKA: Episode 1136)