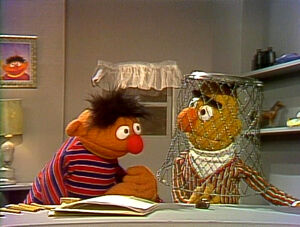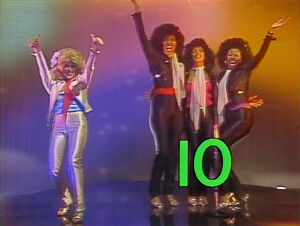 On a rainy day, Ernie watches TV, when Bert suggests he do something else, like write a story. Thus, Ernie sets everything out on the table, including pencils, paper, a pencil sharpener, and a wastebasket (which somehow ended up on Bert's head). Ernie is now ready to write a story, but instead, he leaves everything set out for when he gets an idea.
Cartoon: A girl talks about preparing to play with her new sled. (EKA: Episode 0573)
Film: An Hispanic boy gets up, gets dressed, and goes to school as Spanish music plays (A la luna no voy yo). (EKA: Episode 0829)
Machines are used to harvest sunflowers.
Cartoon: A derby-hatted man identifies animal sounds, ending with a tractor. (EKA: Episode 1128)
After fighting with each other, the Two-Headed Monster reads the word "Love" and forgets their feud.
Mass Communication (Maria, Olivia, Susan and Linda) perform their hit song "1-2-3-4-5-6-7-8-9-10."