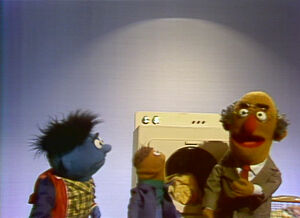 Gordon and the kids use two, plain balls to make faces.
Members of a family sow seeds for the harvest season.
Theater Without Words presents "The Flower and the Weather."
The wind has scattered litter all over Sesame Street, so Big Bird volunteers to help Linda and the kids clean it up.
Cartoon: Three characters try to watch a baseball game over a fence, then cooperate by stacking their blocks. (EKA: Episode 0600)
Bob and the kids play a game where they guess what kind of music one is listening to in their head by the way he moves.