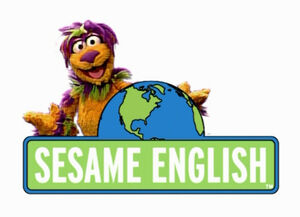 | Picture | Segment | Description |
| --- | --- | --- |
| | SCENE 1 | Niki receives a call from her dance partner, who is unable to practice for tomorrow's dance competition. Niki is upset, but Tingo thinks he can substitute. He shows off his dance moves, flailing about wildly, and ends up crashing. |
| | Film / Muppets | Elmo appears over a film of dancing feet, using his STOP sign to pause and resume the film. |
| | Muppets | "Tickle Me Land" excerpt from "Elmo's World: Dancing," with new voice-over and on-screen text added |
| | SCENE 2 | Niki teaches Tingo how to do the cha-cha. He gets a good handle on the routine, but steps on Niki's foot. |
| | Film | Kid jungle explorers find a wild letter C. (edited) |
| | Animation | Letters on the Street: the letter C is found on a city street. |
| | SCENE 3 | Tingo and Niki arrive at the competition, though Tingo is nervous. They watch the impressive routine of Isadora and Dunkin, when Tingo runs off in terror. |
| | Song | "Dancin' Shoes" |
| | SCENE 4 | Tingo feels better now and the two hit the dance floor. They are then declared the winners, though Tingo has a hard time carrying their trophy. |
Notes
Tingo and Niki's dance music at the competition is a styled version of "I Want a Drink of Water" from "Vegetable Soup."
Ad blocker interference detected!
Wikia is a free-to-use site that makes money from advertising. We have a modified experience for viewers using ad blockers

Wikia is not accessible if you've made further modifications. Remove the custom ad blocker rule(s) and the page will load as expected.