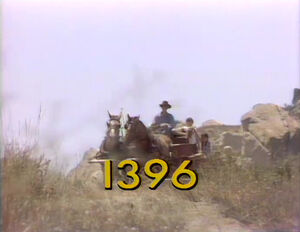 Episode 1396 is the second of two episodes in which C-3PO and R2-D2 from Star Wars visit Sesame Street. The droids first appeared in Episode 1364.
Noggin originally showed this episode uncut, but later reruns were edited.

Picture
Segment
Description
SCENE 1
Big Bird is at the bus stop to wait for C-3PO and R2-D2. When the bus arrives he sees them again but he gets into the bus as it keeps moving!

Cartoon
Bus Stop

Muppets
Super Grover: Bus Stop
(EKA: Episode 0708)

Song
How string beans are harvested
(EKA: Episode 1111)

Cartoon
This is a big letter V poem
(First: Episode 0507)

Muppets
High, Middle, Low (Anything Muppet Barbershop Quartet)
(EKA: Episode 0236)

Cartoon
Consonant Sound: V, violin
Artist: Jeff Hale
(EKA: Episode 1285)

Film
Russian nesting dolls 1-10
(First: Episode 0540)
SCENE 2
Bob meets C-3PO and R2-D2 and sings the alphabet along with the kids (and droids).

Cartoon
Caterpillars Never Wear Brown Boots
Artist: Jeff Hale
(EKA: Episode 0890)

Muppets
The Twiddlebugs get a new postage stamp portrait of George Washington, but have trouble getting it to stick to the wall. They finally get it to work, but it is upside down.
(EKA: Episode 0961)

Cartoon
Capital letter U for up
(EKA: Episode 0598)

Film
The Steam Shovel
(EKA: Episode 1144)

Cartoon
Dog and the lower-case 'u'
(First: Episode 0131)

Muppets
Grover reads "The Cursed Prince" (David turns into Kermit)
(EKA: Episode 1066)

Film
Two birds
Music: Joe Raposo
This segment was removed from later Noggin airings.
(EKA: Episode 0309)

Cartoon
A man (voiced by Jack Dodson) describes places that begin with U and what you can do with the letter U.
(First: Episode 0416)

SCENE 3
Linda meets C-3PO and R2-D2.

Cartoon
A boy imagines staying in the jungle at night when he goes to sleep.
Artist: Bruce Cayard
(EKA: Episode 1151)
This segment was removed from later Noggin airings.
Muppets
Bert wants to know why there is a cookie lying on the table. Ernie explains that he put it there to remind himself.
(First: Episode 0095)

Cartoon
"I Can Remember": A little girl remembers what to buy at the store (A loaf of bread, a container of milk, and a stick of butter) by visualizing her mother giving the instructions.
Artist: Jim Simon
(EKA: Episode 0420)

Film / Song
"At the Animal Doctor": Two boys take their dog to the vet
(EKA: Episode 1016)
This segment was removed from later Noggin airings.

Cartoon
Ralph jumps on top of the word 'UP'
(EKA: Episode 0598)

Muppets
Biff hangs numbers under Salvador Dada's paintings in an art museum.
(EKA: Episode 0707)
SCENE 4
R2-D2 falls in love with a fire hydrant.
Cartoon
Things say that other things are small, but then something comes along that's bigger, or smaller, or whatever.
(EKA: Episode 0320)

Muppets
Waiter Grover: Hamburger - Mr. Johnson wants a hamburger. The restaurant offers two sizes: the big hamburgers and the small hamburgers. When the small hamburgers are too small, he orders a big one, but because there have been some problems with the big hamburger, Grover tries to convince him to order several small ones.
(First: Episode 0705)

Cartoon
B...us. We're on the bus!
(EKA: Episode 0796)

Film
Marching Band forms a square
(EKA: Episode 0514)
This segment was removed from later Noggin airings.

Cartoon
Kids wait for the bus to arrive.
(EKA: Episode 0372)

Cartoon
"Poverty U" -- A figure gives a salute to the letter U, and presents the letter with a bouquet of flowers.
Artist: Cliff Roberts
(First: Episode 0036)

Muppets
Harvey Kneeslapper: Harvey Kneeslapper goes to a man and asks, "Can I take a picture of U?" The man gives him permission, but Harvey tells him that his shoes are untied, and when the man looks down, Harvey slaps the letter U on top of his head and takes a picture of it.
(First: Episode 0468)

Cartoon
A U train spells the words Unite, U-turn, Underground, Up, and Universe.
(First: Episode 0624)

Song
Joe Raposo sings "Two is You and Me."
(EKA: Episode 1091)

Cartoon
Pinball Number Count #2
(First: Episode 0987)

SCENE 5
Big Bird and C-3PO plan to go to the park but R2-D2 doesn't want to go there because it's raining right now.

Film
Flamingos
Music: Joe Raposo
(EKA: Episode 0817)

Muppets
Ernie & Bert — Ernie has two slices of apple pie. He takes the big piece, and gives Bert the small piece. Bert takes offense to this, saying that he would have given Ernie the big piece and kept the small piece for himself - but the outcome is the same, so what's Bert angry about?
(First: Episode 1166)

Cartoon
Hats
(EKA: Episode 1285)




SCENE 6
After a brief rainy day, C-3PO finds out that it's not raining anymore. Big Bird, C-3PO and R2-D2 are finally going to the park. Big Bird announces the sponsors.
Notes
This episode was taped on November 1, 1979.