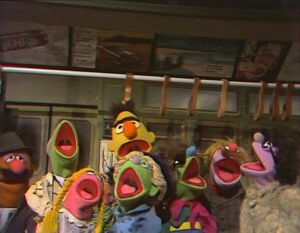 Cartoon: A girl shows how good she is at drawing buildings. (EKA: Episode 0858)
Song: "I'm Your Friend, You're My Friend," with film of kids playing.
Herry Monster asks the kids at home to do simple exercises with him like moving eyebrows, touching toes with fingers, and running in place. (EKA: Episode 0808)
Film: In a classroom, kids learn the musical scales through various exercises.
Luis misses the subway because the man in the token booth doesn't understand him.
Cartoon: Thelma Thumb - A beehive is disturbing a little girl in her treehouse, so Thelma convinces the bees to move their hive to another tree surrounded by flowers.
Oscar goes to the subway station to listen to the noise.
While riding on the subway, the children describe to Bob what they see as they look out through the train's front window.
Cartoon: A woman serves milk to her cat. Several other cats join him, including a lion. (EKA: Episode 1102)
Ernie gets a new set of drums.
Big Bird returns to Sesame Street from the subway station in a unique way - through a tunnel.