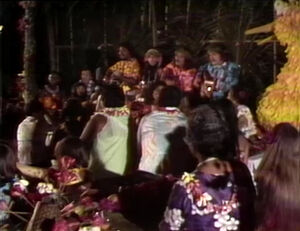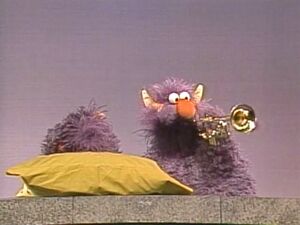 Big Bird explains to Herb the Horse that everyone is going to have a luau for Cody, who is turning one year old today. Then, he calls his friends to get ready for the big day in Hawaii, but they're still sleeping in the teepee. Then, when his friends get ready for Cody's first birthday party, Big Bird tries to look for Snuffy so he can ask him what he could bring to Cody. When Big Bird arrives back at the party, he thinks he didn't help his friends. Buffy says it's all right.
The gang celebrates Cody's first birthday. First, Keola sings a children's blessing. Then, Kapono, Keola, and the others sing Happy Birthday in Hawaiian. Afterwards, Big Bird and his friends give Cody presents.
The gang plants a garden near the tent.
Cartoon: A janitor sweeps up his own footprints the wrong way, then the right way. Just then, a giant centipede leaves tracks all over the floor. (EKA: Episode 0262)
Two-Headed Monster: One head wants to play the trumpet, but the other head wants to sleep.
Olivia tastes some new foods for the party; it's hula time!
Three dancers try to open a door.
Cody and the kids play along together outside the tent.
The gang sings a beautiful song to Cody.
The gang is heading back to Sesame Street and says good-bye to Buffy. Back in the plane, Big Bird wanted Snuffy to come back to Sesame Street with him but Maria doesn't want to hear any more of it and suggests for him to take a nap, as she plans on doing the same. He cries a little...until he feels Snuffy's snuffle! Immediately, Big Bird shushes Snuffy so he won't be noticed. The plane takes off as Buffy and her family wave goodbye. Bob announces the sponsors and the credits roll over shots of Hawaii.