Sesame Street
Plot
Hawaii Day 4 – Big Bird and Snuffy continue searching for the Snuffleupagus Mountain
repeat of 1093
Air date
March 5, 1980
Season
Season 11 (1979-1980)
Sponsors
K, N, 4

This episode guide has been compiled from materials at the CTW Archives.

ⓘ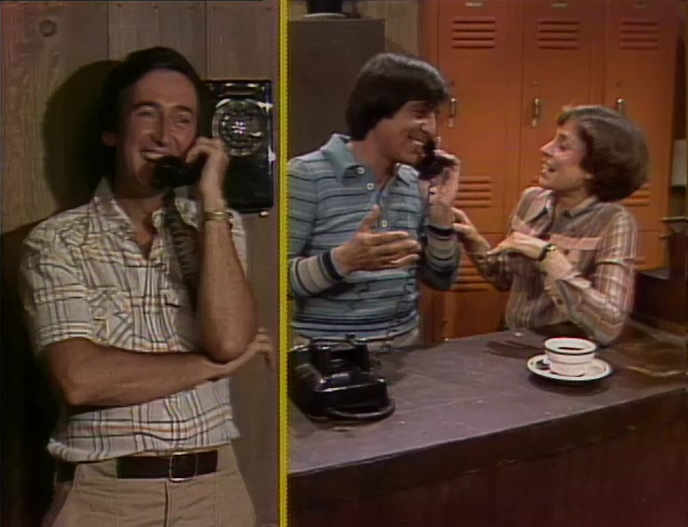 The gang packs the truck and gets ready to head out again. As always, Big Bird would rather stay behind and search for Mount Snuffleupagus. Oscar has his own transportation (or lack thereof).
Big Bird and Snuffy think they've found the right mountain -- but what they see turns out to be "Mount Hole-in-the-Mountain" instead.
Ernie and Bert cooperate to make Ernie's bed. Ernie notices that on his bed, which Bert is preparing, there is one side where the blanket is shorter than the other. Bert suggests that Ernie and him cooperate while making the blanket even on both sides, in the process the blanket is shorter at one side than the other.
Keola and Kapono demonstrate a traditional Hawaiian hula. Bob and Mr. Hooper try it themselves.
Bob turns to Keola for something romantic to say to Linda. He learns several signs to teach Linda when he goes home.
The Two-Headed Monster sounds out the word "Fall" and leaves fall on them. Then, they fall over.
Big Bird and Snuffy do the hula.
Bob calls Linda back home. Luis interprets for both of them. Bob and Linda say they miss each other. Bob says he learned some signs to teach Linda. At the end of the phone call, Bob explains to Luis to hold his hand up and drop his 3rd and 4th fingers to Linda and give the sign for "I love you" and Linda signs it back. Luis does not know the sign but he is happy to communicate for Bob & Linda.
Bob plays some Hawaiian games with the kids.
Bert teaches his pigeon, Bernice, how to play checkers. Ernie thinks it's amazing that a pigeon can play checkers, but Bert thinks it is no big deal, because Bernice has only beaten Bert in two out of ten games. (EKA: Episode 1227)
The kids swim in the ocean as the sponsors are mentioned by Maria.