Sesame Street
Plot
Hawaii Day 2 – The gang arrives in Hawaii; Big Bird hears the legend of the Snuffleupagus Mountain
repeat of 1091
Air date
March 3, 1980
Season
Season 11 (1979-1980)
Sponsors
D, M, 2

This episode guide has been compiled from materials at the CTW Archives.

ⓘ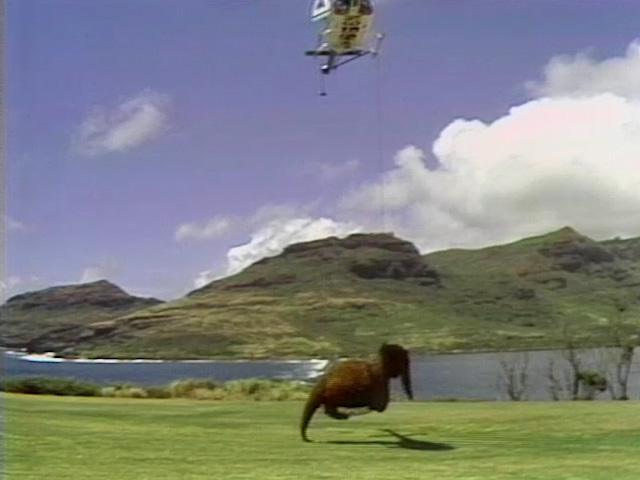 At the baggage claim area, Maria gives a Hawaiian lei to Oscar.
Big Bird and the gang board the truck and head out to the Indian reservation where Buffy lives. Along the way, they stop at a fruit stand, where they observe several kinds of fruit that Mr. Hooper doesn't carry in his store.
Cartoon: A girl lying in bed imagines seeing cracks in the wall turning into monsters. (EKA: Episode 0818)
Film: Footage of a coral reef, showcasing the plant life and the fish. (EKA: Episode 0697)
Oscar likes it in Buffy's teepee. Buffy's friends and neighbors arrive on a fire truck, and everyone meets for the first time.
Sesame Street News Flash: Kermit stands by a grandfather clock waiting for a mouse to run up it, acting out "Hickory Dickory Dock". Gladys the Cow and a duck show up instead. Finally, a horse comes in and explains that the mouse can't make it. The horse runs through the clock, breaking it in the process. (EKA: Episode 0710)
Film: Kids go roller-skating in a playground as ragtime music plays. (EKA: Episode 1234)
Big Bird decides to look for Snuffy's relatives himself and thinks he spots one of them by a lake. Surprisingly, it turns out to be Snuffy himself and the two share a happy hug.
At the campfire, Keola Beamer plays a nose flute, and Buffy plays a mouth bow. The pair play "Codioco". Keola tells, in story and song, the legend of Mount Ihu Papa'a Lo'ihi Nui ... a.k.a. Mount Snuffleupagus! Now Big Bird knows what to do in Hawaii ...
Everyone says good night. Big Bird vows to search for Mount Snuffleupagus. Maria announces the sponsors.