Sesame Street
Plot
Hawaii Day 1 – Big Bird and his friends take a trip to Hawaii
repeat of 1090
Air date
February 29, 1980
Season
Season 11 (1979-1980)
Sponsors
B, P, 7

This episode guide has been compiled from materials at the CTW Archives.

ⓘ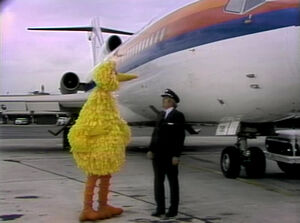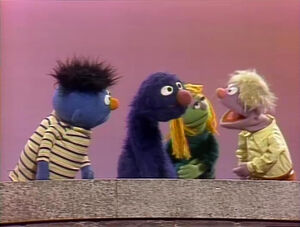 Cartoon: A stubborn hippo sits on a girl's ball, and she tries to figure out how to get it back. (EKA: Episode 1124)
Bert can't go on a trip with Ernie because his hand has purple paint on it. Ernie puts a mitten on Bert's hand to cover it, but Bert still won't go because he looks silly wearing one mitten. So Ernie completes the outfit with another mitten, a hat, a scarf, and a sled. Ernie then reveals that they are going to the beach. (EKA: Episode 0514)
The gang arrives at the airport. Oscar has to go through the metal detector, but first he has to take everything out of his can...
Cartoon: Two men on a park bench turn their radios up louder and louder, each trying to drown the other's out, until they reach a station they can agree on. (EKA: Episode 0796)
Oscar has finally passed through the metal detector.
While looking for Snuffy on the airport tarmac, Big Bird meets the airplane pilot played by Jim Thurman, and learns about the parts of an airplane. He initially thinks the man says he is a pirate, instead of a pilot.
Anything Muppets tell Grover in song how to plan for a career; unfortunately, all Grover wanted to make up was his mind - regarding which of two ice cream cones to eat first! By the time said song is finished, both cones have completely melted.
Caveman King Ernie wants something to drink, so he calls on the Royal Smart Person for help. The royal cow has quit, so there's no milk available. Ernie also shows that there is no liquid inside a rock or a stick. Then the Royal Smart Person suggests that Ernie should try squeezing a round orange thing (an orange), which turns out to have juice inside.
The gang boards the plane. Big Bird asks the stewardess if she's seen Snuffy anywhere. Maria belts Oscar's can down. Snuffy has missed the plane.
Big Bird awaits as the plane prepares to take off...and they're off!
Big Bird is getting bored with the long flight, not to mention worried that he'll be starving by the time it's over. Thankfully, the stewardess offers lunch right then. Oscar's complaints about his order make the stewardess sick to her stomach.
Oscar is disappointed that the in-flight movie will be Happy Happy Happy. Big Bird gets a set of headphones to listen to as he falls asleep during the closing credits while Bob announces the sponsors quietly.