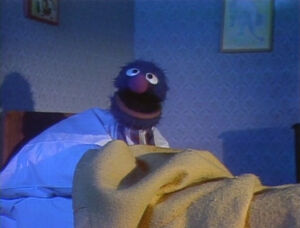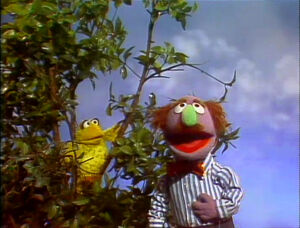 The Sesame Street neighbors decide how they're going to get to Hawaii.
Cartoon: A girl demonstrates that she is scary-looking to a sleeping monster. (EKA: Episode 0845)
Ernie wakes up and tells Bert it's time to get up, but notices that Bert isn't in his bed. He slowly ponders what happened to his best friend, coming to the conclusion that maybe some Martians took him away in their spaceship. As it turns out, Bert just got up early to fix some oatmeal. Ernie is relieved ... until a real spaceship lands and the Martians enter the room. (EKA: Episode 1208)
Oscar the Grouch doesn't want to go to Hawaii, until Olivia tells him that there's a lot of mud and volcanic rock on the island.
Cartoon: "Why Bears Smile" - a story of a bear who learned which body part to cover when sneezing. (EKA: Episode 1167)
A street fair is organized to raise money for the Hawaii trip; everyone cooperates to make it a success. Oscar contributes to the Hawaii fund.
Ernie plays a game of tag with Bert, who is reading his book. (EKA: Episode 1026)
Maria writes to Buffy to tell them about the street fair on Sesame Street, and their plans to go to Hawaii.