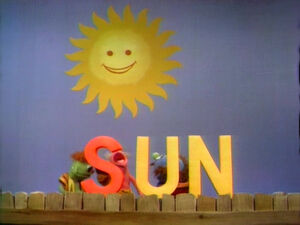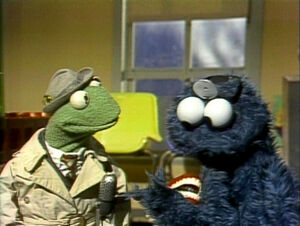 Bert refuses to share his cookie with Ernie, who tells Bert that if the cookie was his, he wouldn't mind sharing. Ernie takes the cookie, and asks Bert to ask him if he would share it. (EKA: Episode 0592)
Film: An Hispanic boy gets up, gets dressed, and goes to school as Spanish music plays (A la luna no voy yo). (EKA: Episode 0829)
A Muppet invents a test machine for monsters.
A Native American boy talks about Native American words.
Oscar learns a few "grouch" words in sign language.
Cartoon: Uncle Gus and all of us went for a ride to Ho-Ho-Kus. (EKA: Episode 0926)
Linda, Bob, and children "mirror" one another's movements.
Big Bird plays the "mirror game" with Bob.
Sesame Street News Flash: Kermit, doing a "slow-breaking human interest story," asks monsters at a daycare center what they want to be when they grow up, and every time they tell him, he rewards them with a cookie. Cookie Monster, posing as a baby ("Cry cry cry, sniffle sniffle sniffle"), claims he wants to be an orthodontist. However, Kermit gets wise to Cookie's scheme, and instead rewards him with a wind-up toy bridge of false teeth. (EKA: Episode 1346)
Bob doesn't want to play the mirror game anymore.