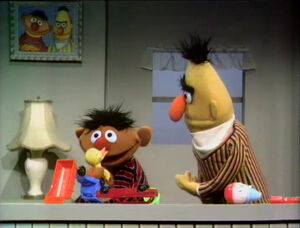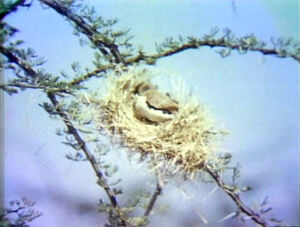 Big Bird and Grover clean the Fix-It Shop window, when they notice a conflict: Grover is hanging upside down cleaning the top, while Big Bird is squatting down to clean the bottom. Since Big Bird is taller than Grover, they decide to switch places.
Cartoon: An alligator and an elephant chat about how to remember their names. (EKA: Episode 1343)
Cartoon: A boy gets lost, and encounters a man with a yo-yo, who tells him to remember everything he passed. (EKA: Episode 0668)
Waiter Grover: Grover tells Mr. Johnson the menu, which has the items numbered. Number nine is the special of the day. It turns out to be a real number nine, but Mr. Johnson doesn't want it. (It's medium rare, and he likes his nines well-done.).
Big Bird and Grover's plan worked, but since Grover is so short and Big Bird is so tall, the middle of the window is still dirty.
Cartoon: A girl thinks about what might happen if she popped a balloon behind her friend Donald. (EKA: Episode 1099)
Maria shows the letters C and G, and expects Cookie Monster to say that the cookie she has starts with C, but he outsmarts her: "It GINGER SNAP!"
Maria approaches Cookie Monster with a cinnamon cookie, but he outsmarts her again: "It GERMAN cinnamon cookie!"
This time, Maria brings a cream-filled cookie, which happens to be a girl scout cookie; C.M. eventually gives in.
Big Bird can't get to sleep; Bert helps him out by putting on his favorite record, "The Marching Lullaby"!
"Marching Lullaby" cont'd; Big Bird marches away and sleeps in the arbor.