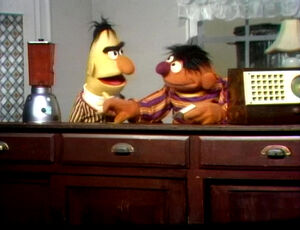 There's no customers at Hooper's Store, which makes David feel sad and lonely. He becomes happy when the store become full and lively.
Film: A teacher shows a group of special needs students a variety of coordination exercises.
Children take turns making happy and sad faces.
Cartoon: A chair displays the word SIT, and a beast sits on him.
Oscar opens his own art museum, which displays his Grouch masterpieces.
After signaling to each other, two hands meet each other.
Ernie and Bert are watching TV, but Bert gets bored and decides to play a record. Ernie tells him to turn down the volume, but Bert won't, so Ernie drowns out Bert's music by playing the radio. Bert then retaliates by turning on the blender. With all four things running at once, they blow a fuse, causing a total blackout in their apartment. Bert goes outside to fix the fuse box, while Ernie turns off all the things that were running. When the lights come back on, they decide to play cards instead of fight. (First: Episode 0003)
Film: Some kids watch a film of a man working in a greenhouse, and try to guess what his job is. (EKA: Episode 0826)
Gordon and the kids discuss the things that make them happy and things that make them sad.
David tries to guess who wrote him a note signed "ME."