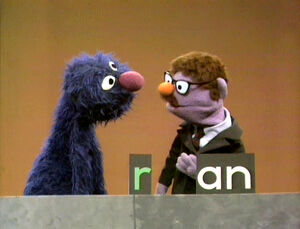 Cartoon: A duckling dresses itself, naming all the parts of its coat. (EKA: Episode 1195)
Oscar doesn't get his daily trash delivery.
While Ernie looks after Hooper's Store, Bert asks him for something to drink. Ernie starts out with a glass of unflavored soda water, tastes it, and decides it's too dull for his ol' buddy Bert. To Bert's dismay, Ernie then adds some strawberry syrup to the soda water, then a scoop of ice cream, and finally, some whipped cream. Now it's an ice cream soda, which Bert doesn't want... but Ernie does. (EKA: Episode 0699)
Bob and Big Bird put safety flags on a bicycle.
Luis demonstrates a t'ai chi movement.