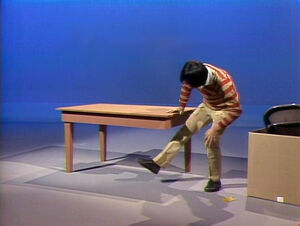 Using clues, the cast tries to determine who's been in Hooper's Store.
Ernie eats the chocolate cake that Bert was planning on eating. Bert sees some icing on Ernie's mouth, a bib around his neck, and a fork and knife in Ernie's hand, and Ernie tells Bert that a monster came in, ate Bert's cake, and put the evidence on Ernie. Bert doesn't believe Ernie's lie and gets another piece of cake, but when he leaves the room, Beautiful Day Monster comes in and does exactly what Ernie told Bert happened to the first cake, but when Bert comes back and sees the other cake eaten and Ernie says that the monster ate it, Bert doesn't believe him. (First: Episode 0119)
Film: Close-ups of animals. Kids try to guess what they are.
A man and boy take turns riding a horse.
Luis comes across a table with only three legs, yet still stands up fine. He searches in his box of junk for a proper leg. (EKA: Episode 1033)
David and his grandmother dance together.
Everyone says goodbye to David's grandmother as she departs.