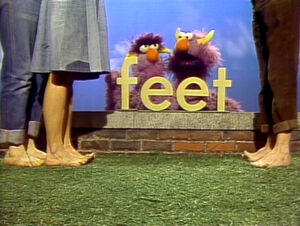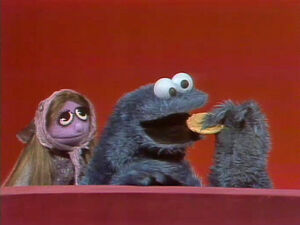 Film: A band plays and children dance at a Cinco de Mayo celebration. (EKA: Episode 0438)
The Two-Headed Monster sounds out "feet," and then the camera pans back to reveal a pair of live feet on some grass.
Cartoon: A photographer tries to look for some animals quietly, but they all end up secretly following him. (First: Episode 0799)
Ernie is thirsty, and imagines that he's drinking nice cold water. Irritated, Bert tells him to go get a real glass of water. Ernie does, but then he annoys Bert by saying that now he's hungry. He then imagines himself eating a big peanut butter and banana sandwich. (EKA: Episode 0679)
Farley talks about what he wants to be when he grows up.
After Bert gets mad at Ernie, Ernie imagines what life would be like without Bert. (EKA: Episode 1034)
Oscar opens a Grouch zoo.
Cookie Monster is about to eat a cookie, when a sad-looking girl approaches and stares at him. He tries to eat the cookie, but can't do it. He breaks the cookie in half and shares the cookie with the girl. He eats his half of the cookie. When the girl eats her half, she eats it just like Cookie Monster. (EKA: Episode 0730)