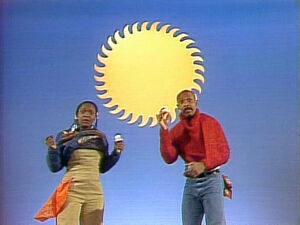 A man comes to Ernie's apartment to use the phone because his car has broken down. However, Ernie has trouble figuring out what he wants. (EKA: Episode 0170)
Big Bird thinks it's important to learn another language.
Cartoon: Uncle Al tells his nephew a story about a dog he had, but gets mixed up with the details. (EKA: Episode 1145)
Bert can't go on a trip with Ernie because his hand has purple paint on it. Ernie puts a mitten on Bert's hand to cover it, but Bert still won't go because he looks silly wearing one mitten. So Ernie completes the outfit with another mitten, a hat, a scarf, and a sled. Ernie then reveals that they are going to the beach. (EKA: Episode 0514)
Big Bird explains why Linda can't hear the sounds of the street.
Film: "Listen ..." to various sounds, including the ocean, a heart beating, a clock ticking, a horse galloping, crickets chirping, a passing train, and others. (EKA: Episode 0977)
Cartoon: A boy imagines that if the clouds were cows, it would rain milk. (EKA: Episode 1072)