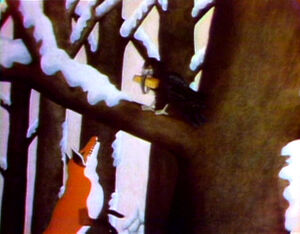 Maria can't remember where she left a book that she borrowed from the library.
Cartoon: Two groups of mountain goats try to pass each other on a mountain road. (EKA: Episode 0810)
Cartoon: A minstrel sings about a fox who outsmarts a crow. (EKA: Episode 0666)
Sesame Street News Flash: Kermit stands by a grandfather clock waiting for a mouse to run up it, acting out "Hickory Dickory Dock". Gladys the Cow and a duck show up instead. Finally, a horse comes in and explains that the mouse can't make it. The horse runs through the clock, breaking it in the process.
Big Bird is rewarded for returning a stray dollar he's found.
A sketch of Luis is made.
The Count (in voiceover) counts three kids who arrange themselves in different configurations with three boxes.