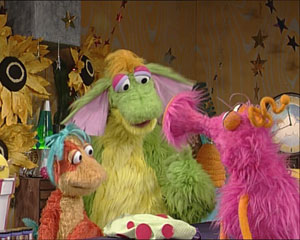 Mopatop opens the episode by offering a yellow box, two stripey socks or a talking Fox.
Lamont delivers a bag with pink and green spots. Right after Lamont leaves a Pink Monster comes into the shop asking for a huge change, a Green Monster also enters the shop asking for a change. It turns out that they are feed up with being the current color. The Pink Monster wants to be green and the Green Monster wants to be pink. So they end up switching colors. After they two monsters leave Kevin Koala enters the shop, looking for something for his mother. He ends up leaving with a lovely eucalyptus tree.
The two monsters return one by one, it turns out that it was not so funny switching colors anyway. But theres advantages to being both green and pink. Puppyduck and Mopatop give them the spots that Lamont delivered earlier, so they could have the best from the two colors.
Performers
Ad blocker interference detected!
Wikia is a free-to-use site that makes money from advertising. We have a modified experience for viewers using ad blockers

Wikia is not accessible if you've made further modifications. Remove the custom ad blocker rule(s) and the page will load as expected.