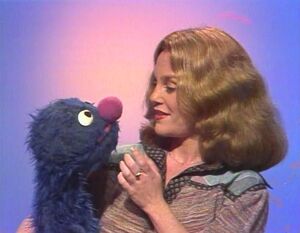 Film: A boy visits the hospital to see his mother's new baby. (EKA: Episode 1125)
Ernie has gone shopping -- buying bread for himself, and peanut butter for Bert. They realize that it's dull to eat what they have separately, and they decide to cooperate, so they can each have a peanut butter sandwich. (First: Episode 0279)
Cartoon: A photographer tries to look for some animals quietly, but they all end up secretly following him. (EKA: Episode 0845)
Cartoon: An elephant and a bear try to cross a bridge to deliver their packages, but they're in each other's way. (EKA: Episode 0834)
Cartoon: A man plays various letters of the alphabet as instruments.
Bert sits outside on the Street, pretending to fly a helicopter. Maria sits down with him, and the segment becomes animated as they fly through the air before returning to the Street. (EKA: Episode 0720)
Song: "Baby's Boat is a Silver Moon"