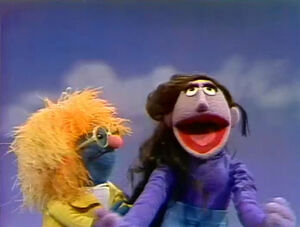 Children clap and sing to a "Clap a Song Along."
Various things in a kitchen become CERRADO. (Luis voice-over)
Ernie tells the viewer to watch and listen for Cookie Monster, so he won't take the cookie which Ernie just got from Hooper's Store. Ernie encounters a machine that reads "Your Fortune Told. Insert One Cookie." Not realizing that Cookie Monster is inside the machine, he inserts the cookie. Some munching noises are heard, and a card comes out that says, "You will soon be kissed by a grateful Cookie Monster." (EKA: Episode 0756)
The Count counts seven flowers, and then explains that he loves to count flowers because then he gets to count sneezes. (EKA: Episode 0526)
Cartoon: A man's bathtub is stolen.
Big Bird eats various kinds of fruits, including apples, pears, peaches, grapes and plums.
Before he goes to bed, Big Bird recalls all the exciting things he did today.