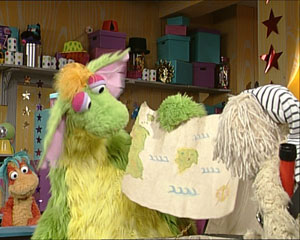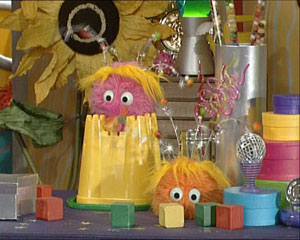 Mopatop opens the episode by offering some sneezes, some Chattering Cheeses or a bag of sea breezes.
The customer that comes into the shop are Captain Woof, he is looking for a adventure. Mopatop pulls out the old adventures chest. The first adventure is to battle a Sea Monster, but the captain had battled more sea monsters than Mopatop have had happy customers. The second adventure suggestion is a Pirate adventure, but the captain are looking for a more adventures adventure than a pirate adventure. The last adventure is a treasure hunt adventure. The treasure hunt adventure is just what the captin are looking for, but theres one slight problem, he is missing a ship. The kind of ship he would like are a ship that don't go on water, it turns out he is a bit afraid of water, so he ends up leaving the shop with a ship in a bottle.
Video releases
Performers
Ad blocker interference detected!
Wikia is a free-to-use site that makes money from advertising. We have a modified experience for viewers using ad blockers

Wikia is not accessible if you've made further modifications. Remove the custom ad blocker rule(s) and the page will load as expected.