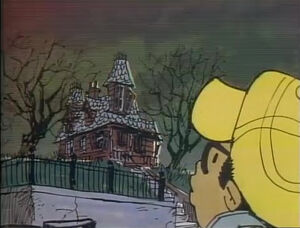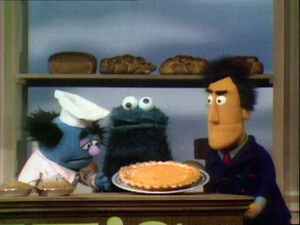 Maria uses various devices in an attempt to retrieve some keys she dropped on an awning.
A little girl performs in an ice skating program.
As Bert takes a nap, Ernie tells the viewer how he knows that Bert is asleep - thus waking Bert up, just to tell him it's time for his nap. (First: Episode 0026)
Film: A girl goes to the shoemaker and watches him as he repairs her shoes. (EKA: Episode 1028)
Children play two coordination games.
Olivia is proud of herself because a photograph she took was published in a magazine.
Bert and Ernie talk about scary things.
Big Bird wonders who's at his door when he hears a strange noise.
Cookie Monster comes to the bakery looking for something delicious that rhymes with BUY. He tries the I (from the MIKE'S BAKERY sign) and the baker's TIE, both of which aren't that delicious. Finally, Guy Smiley comes in and loudly announces that he would like to BUY a PIE. Cookie then knows what he can get in the bakery that rhymes with BUY and is delicious: it's GUY! A chase ensues, and Cookie requests for the baker to send him the bill. (EKA: Episode 0519)