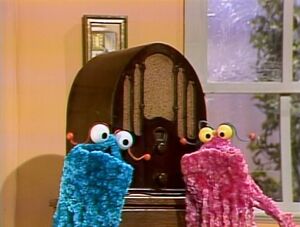 Big Bird learns to make hot dogs by making a cart full of them.
The Martians discover a radio. They tune into three different styles of music, none of which they like. Then they tune into some static, which they start joyfully dancing to.
Ernie shows drawings to Bert, and Bert has to guess what happened. Ernie has a drawing of an empty bird cage with an open door (the bird flew away), and a man lying on the ground with a banana peel next to him (he slipped on it). Then, Ernie shows Bert a blank page. The answer to that one is that there was a cow eating grass, but the grass is all eaten now, and the cow went home. (First: Episode 0030)
A boy remembers what is under four playing cards.