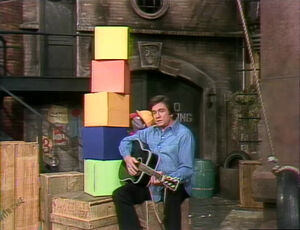 Film: Megan goes to the doctor and gets a cast on her arm so it can heal. (EKA: Episode 1288)
Animation: The word ICE is formed with ice cubes, which melt. (EKA: Episode 1283)
A boy imagines he's a space man.
Ernie holds a hanky while Bert sneezes -- and Bert's nose comes off in Ernie's hand. Ernie teases Bert by putting his nose back in the wrong places. (First: Episode 0026)
Big Bird feels good when he finds out he can job like everybody else.