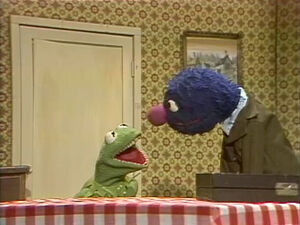 Linda signs "rain" and David gets rained upon.
Oscar takes Osvaldo to the local subway station so he can hear what a loud noise the passing trains make.
Linda signs "snow" and David gets caught in the snow.
Oscar introduces Osvaldo to an American dish, the hot dog.
Linda signs "pie" and David anticipates getting hit with one ... but it happens to Linda instead.
Osvaldo discovers the season of winter.
Bert refuses to share his cookie with Ernie, who tells Bert that if the cookie was his, he wouldn't mind sharing. Ernie takes the cookie, and asks Bert to ask him if he would share it. (EKA: Episode 0592)
Osvaldo sees snow for the first time and declares that he loves New York.