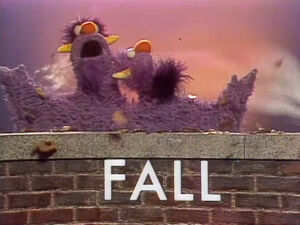 Cartoon: A scientist adds legs, feet, then knees to his robot and tells it to walk, but it dances out of shot instead (as does the scientist). (EKA: Episode 1237)
The Two-Headed Monster sounds out the word "Fall" and leaves fall on them. Then, they fall over.
Song: "It's Nice to Return".
Cartoon: "Why Bears Smile" - a story of a bear who learned which body part to cover when sneezing. (EKA: Episode 1167)
A Latino child looks for his mother.
Grover watches Mumford practice a trick, making a rabbit come out of his hat. Mumford has trouble getting a rabbit to come out of the hat, and both are oblivious to the fact that Grover is turning into a rabbit. (EKA: Episode 0712)