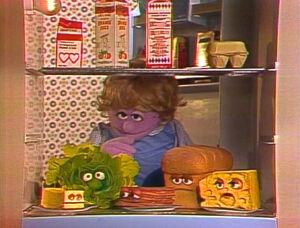 Muppet lettuce, bread, cheese, butter, and ham argue on who an Anything Muppet girl should have for a snack. They all cooperate to make a sandwich. (EKA: Episode 1231)
Ernie and children play a handclapping game.
Children play "San Sereni" in Puerto Rico.
Ernie sings opera ("O Sole Mio, O Sole You-oh") out the window to find out what time it is: three o'clock in the morning. (EKA: Episode 1153)
Cartoon: Fred, a singer, fails to figure out the words that rhyme with his name in the song he sings. (EKA: Episode 0977)
Big Bird learns the sounds of some birds from Puerto Rico.
Song: "What a Wonderful Place to Call Home".
Maria's family wants her to stay in Puerto Rico a little longer..
Maria says "Adios" to Puerto Rico.