Episode 130: Dance It Out!
Talk

0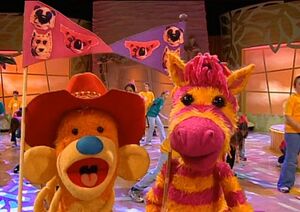 It's DJ Appreciation Day on Animal Jam! Everything is going according to plan until Waffle's baby sister Pancake inadvertently tears into the gift Edi prepared for the DJs.
Edi is upset by this, until Waffle suggest she let her anger out rather than bottling it up inside. When Pancake continues to cause mayhem on the set, Edi and Waffle learn that some problems are better handled by confronting the problem itself. Pancake's strength is put to good use when the DJs open their gift -- it's a Tunemobile wagon, which Pancake pushes while the DJs ride.
Songs
Zebra Zydeco
Moody Moves
Bozark Stompin"