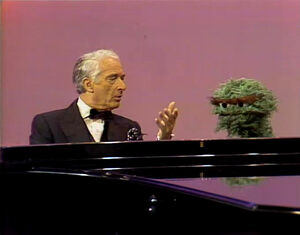 The lights go out in Maria's apartment.
Cartoon: Three characters try to watch a baseball game over a fence, then cooperate by stacking their blocks. (EKA: Episode 0600)
Film: Two kids visit the police department and watch a policeman prepare some horses for a parade happening in New York City. The kids even get to ride the horses and watch the parade. (EKA: Episode 1243)
Mr. Hooper and Bob have an argument every time one or the other uses the only hanger around to hang his coat. They decide to cooperate, and hang both their coats on one hanger. (EKA: Episode 0304)
Cartoon: A photographer shows off his first picture of cows, his next picture of ducks, and his last picture of a pig. (EKA: Episode 1245)
Ernie and Bert: Bert says he's too cold, so Ernie goes overboard to get him warm by putting layer after layer of clothing upon him. This makes him too hot, so Ernie gives Bert an ice bag, opens the window and brings his electric fan. (EKA: Episode 0529)
Ad blocker interference detected!
Wikia is a free-to-use site that makes money from advertising. We have a modified experience for viewers using ad blockers

Wikia is not accessible if you've made further modifications. Remove the custom ad blocker rule(s) and the page will load as expected.