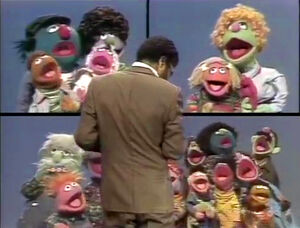 Cartoon: Several kids are sad, but become happy when a fruit vendor appears. (Spanish version) (EKA: Episode 0823)
Biff and Sully move a piano. Biff tries to play a scale and talks about practice. While Biff is away, Sully plays a full concert piece. (EKA: Episode 0926)
Ernie and Bert: Ernie asks Bert to keep an eye on his pyramid of blocks. The Count walks by, and counts the blocks, moving them out of the pyramid shape. Then he counts them again, putting them back into the pyramid. Bert yells at the Count for moving Ernie's blocks, so the Count counts the blocks again, taking the pyramid apart. (First: Episode 0406)
Mr. Hooper receives a grocery order over the phone, but can't find a pencil to write down the info with. He remembers it by repeating the items to himself.
Victor Borge demonstrates seat belt safety when playing the piano.
Song: "Man's Best Friend"
Ad blocker interference detected!
Wikia is a free-to-use site that makes money from advertising. We have a modified experience for viewers using ad blockers

Wikia is not accessible if you've made further modifications. Remove the custom ad blocker rule(s) and the page will load as expected.