Ad blocker interference detected!
Wikia is a free-to-use site that makes money from advertising. We have a modified experience for viewers using ad blockers

Wikia is not accessible if you've made further modifications. Remove the custom ad blocker rule(s) and the page will load as expected.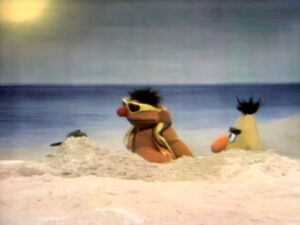 A film about the process of making sweaters from sheep's wool. (EKA: Episode 1057)
At the beach, Ernie notices that Bert is missing; all he sees is Bert's hat. Sherlock Hemlock helps find Bert, and in the process, it turns out that Ernie accidentally buried Bert under the sand. (EKA: Episode 0278)
Sign Cartoon: Oink: A pig comes up, wanting to share in a good laugh with the man.
Snuffy tries to touch his toes.
Film: The parts of a tree
Gordon and Olivia find toys that belonged to them as children.