Ad blocker interference detected!
Wikia is a free-to-use site that makes money from advertising. We have a modified experience for viewers using ad blockers

Wikia is not accessible if you've made further modifications. Remove the custom ad blocker rule(s) and the page will load as expected.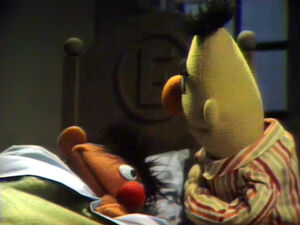 Cartoon: La letra T es para tigre, tomate, taxi, toro, telefono, televisión, y el terrible tiburon. (EKA: Episode 0324)
Animation: Three lines attempt to individually reach the top of the TV screen, but fail. They succeed after they combine all of their lengths. (EKA: Episode 0300)
Cartoon: The weary traveler asks the Wise Man to demonstrate "here" and "there." He does so by throwing his household items off the cliff. (EKA: Episode 0814)
Grover and a group of children exercise together.