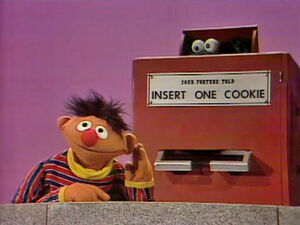 Film: A boy narrates a film of cows being fed hay during winter. (EKA: Episode 0796)
Cartoon: What if a frog and a fly switched bodies? What do you think would happen? (EKA: Episode 0406)
Cookie Monster and Ernie: Ernie tells the viewer to let him know if they see or hear Cookie Monster so he won't take the cookie which Ernie just got from Hooper's Store. Ernie encounters a machine that reads "Your Fortune Told, Insert One Cookie." Not realizing that Cookie Monster is inside the machine, he inserts the cookie. Some munching noises are heard, and a card comes out that says "You will soon be kissed by a grateful Cookie Monster." (EKA: Episode 0756)
Film: The Flashettes girls' track team trains for an upcoming race. (EKA: Episode 1151)
Song: "I'm Happy I Grew Up to Be Me"
Bob, dressed as a clown, sounds out the word ENTER by grouping two doors together. (EKA: Episode 1085)
Ernie & Bert — Bert is sitting in his chair and reading the paper, when Ernie comes along and starts reading over Bert's shoulder. They decide to share the paper. Ernie rips it in half, which seems to work until Bert realizes that some of his article is on Ernie's half and starts reading over Ernie's shoulder. (EKA: Episode 1236)
Snuffy breaks a crayon, leading to an argument between him and Big Bird.
The Count wears a disguise, but everybody recognizes him.